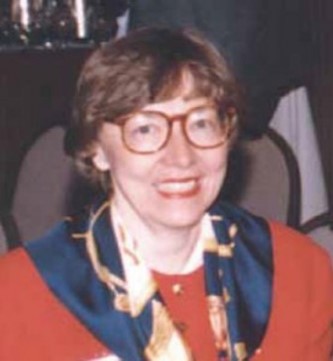 Dr. Barbara Bartz Petchenik is among a number of pioneering women who contributed significantly to modern cartography across the globe. She is remembered predominantly for her interest and research into the theme of children's maps and atlases. But this is by no means the only area that she specialized in. From 1962–1992, she contributed to about 60 articles, papers, reviews, and other map related research in cartographic typography and type legibility, communication aspects, historical cartography, and the psychological aspects of map design, among others. During her career as a cartographer, Barbara Bartz Petchenik believed in the power of maps to communicate a "larger, meaningful, reality."
She grew up in a rural town in northern Wisconsin. She got her Bachelor of Science degree from University of Wisconsin–Milwaukee in chemistry and English, and she taught geography there the year after she graduated. She then went to University of Wisconsin–Madison for graduate work. She intended to focus on physical geography but soon discovered cartography, and thus began her illustrious and prolific career in cartographic research and writing through collaborations with her mentor and friend Arthur Robinson. Together they established foundations for American cartography as we know it today.
Before obtaining her PhD, she was the cartographic editor with the Field Enterprises Education Corporation in Chicago where she was a cartographic researcher and designer for the World Book Encyclopedia. She is well known for research on children's cognitive abilities with maps which began in earnest in the early 1960s through her work on the World Book Encyclopedia. Her research focused on maps designed for nine through fourteen-year old children. She interviewed a thousand elementary school students and observed how they interpreted symbology, scale, coordinates, typography, and other map content. Their distinct perspectives differed from those of adults, and lessons on clarity and simplicity in cartographic design shaped her philosophy on cartography and map design in general. She used the word "miraculous" to describe children's abilities to find meaning on maps in a unique way.
After earning her doctorate in 1969, she returned to World Book as a Staff consultant in Cartographic Research and Design. She worked at the Newberry Library in Chicago where she was co-author and cartographic editor of the The Atlas of Early American History. She later coauthored a scholarly, philosophical book, The Nature of Maps (1976), with Arthur Robinson. This is perhaps her most significant publication. Robinson and she also co-wrote two works about communications aspects of cartography, including the award-winning "The Map as a Communication System". She became the senior sales representative of cartographic services for the R.R. Donnelly & Sons Company, a commercial map-making organization, as a sales representative to consult with clients on planning, designing and producing maps for publications, textbooks. She managed to write more than sixty articles, reviews and essays on cartography, about the theory and practice of map design and cognitive aspects of the discipline. Through all of this, she became a true trailblazer for women in cartography.
Barbara was involved in many cartographic associations and was a member of the US National Committee for the ICA. In 1991, she was the first woman to be elected to the ICA Executive Committee of the International Cartographic Association. She served as a vice president until her death after a short illness in June 1992. At that time, the U.S. appointed Judy Olson to the ICA EC to complete Barbara's term (until 1995). In 1993, the biennial Barbara Petchenik Children's World Map Drawing Competition was created by the ICA as a memorial of Barbara's lifelong interest in maps for children. The aims of contest named in her honor are to promote children's creative representation of the world, to enhance their cartographic awareness and to make them more conscious of their environment.
Sources
Bevington-Attardi, Dierdre. 2021. Personal Communication.
Tyner, Judith. 2019. Women in American Cartography: An Invisible Social History. United States: Lexington Books.